Imse Vimse swim diaper
Swedish Imse Vimse has one of the market's best swim diaper, you can order it online in my shop.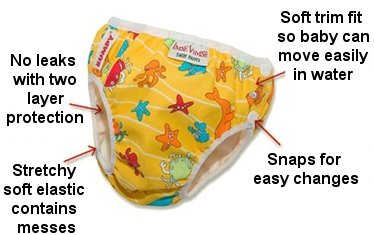 A delightful swimming trunks from Imse Vimse in bright colors that seem good when you are in the pool or on the beach. They pattern with funny sea creatures on.
Thanks to a soft and supple elastic around the waist and legs, your child can move freely around in the water. Trunks consist of a layer soft cloth that holds tight in case of accident. The outer layer is soft and elastic swimsuit fabric.
Snaps on the side means that trousers are very easy to take on and off, even when wet.
Rinse trunks after use. Wash at 40 degrees (delicates) ONLY when needed.